GitHub is one of the largest platform for open source developers. Every developer has a Github profile and many like to put their Github profile in their resume. Github profile has its own value as GitHub is the place where you will upload all your projects. But the original Github profile page looks boring and doesn't showcase your skills and projects clearly. Well, there is a way to optimize your Github profile. let's get started.
Get Started
If your GitHub profile looks something like THIS 👇
Turn it to something like THIS 👇 or even cooler!
Making a GitHub Profile Page
1. Create a new Repository
Go to 👉 repo.new
Type the repository name, which should be the same as your username. This creates a secret repository.
Make the repository Public.
Check the box – Add a README file.
Then click Create Repository.
2. Update README file
The initial file looks something like this with a simple message.
You can edit the file by clicking on the Edit README button on the right.
As you can see, the file is provided with a template made using markdown. You can edit it according to your preference.
Click on Commit changes. You can also add a commit message.
3. ✨That's it your profile page is ready!! Now,✨
There's a lot of open-source elements available to achieve a beautiful Profile page. I have listed some of the resources down below to edit your GitHub profile everyone has a different choice and preference so look what suits you the best.
Easiest Way to make changes to GitHub profile
Visit https://rahuldkjain.github.io/gh-profile-readme-generator/
fill all the details and select all the tools you want
Click generate and copy the code
Click on update read me of your repository
Paste the code DONE !!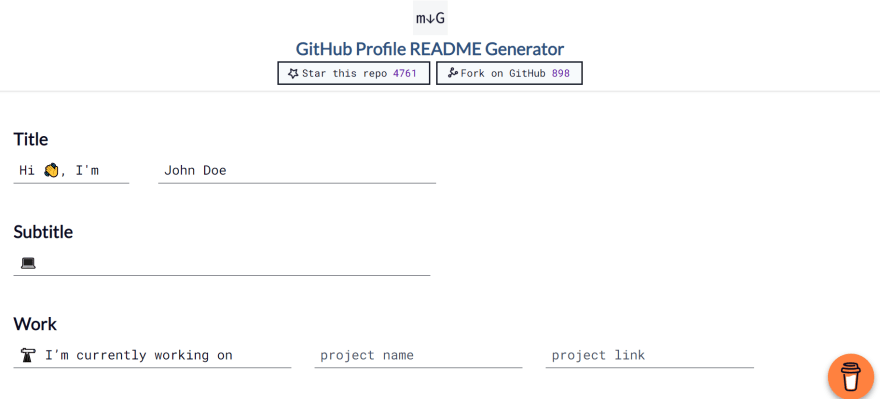 Thank you for reading!🙌
If you face any problem feel free to comment below.
Support me by liking it and sharing it for more such articles.